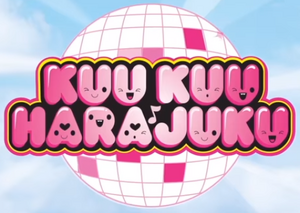 Kuu Kuu Harajuku is an animated American/Australian/Canadian/Malaysian television show created by Gwen Stefani for Network Ten. It was originally released in Australia on November 1, 2015 with the American air date announced almost a year later, sometime in September 2016. The first episode aired on October 3, 2016.
Note: This wiki is only focusing on the American version of the show, so voice actors, episode order, and other elements may differ from it's Australian counterpart. Please keep this in mind while browsing the wiki.
Main Cast
Setting and Plot
The show takes place in Harajuku, a small metropolitan area within Tokyo, Japan that places emphasis on youth culture and fashion.
The plot focuses on the adventures of five talented members (G, Love, Baby, Angel, and Music + their manager, Rudy) of the band HJ5! and their feudal attempt to successfully preform at a gig without any major problems.
Seasons
Season 1
Season 2
Trivia
The names Love, Angel, Music and Baby are based on Gwen Stefani's debut solo album of the same name.
The first week the show aired it broadcast on Nickelodeon at 4/3c in the afternoon Monday through Friday. On that same Friday it was announced new episodes would air every Saturday morning at 9/8c.

A few weeks later the time was change and Kuu Kuu Harajuku would air an hour earlier at 8/7c in the morning.
On April 4, 2017 it was announced that Kuu Kuu Harajuku would now be moving to Nick Jr., and new episodes would air every Friday at 7:30pm/6:30pm c. Repeats would air Monday through Thursday at the same time.

The character G is based on Gwen Stefani, the co-producer of the show.
The first episode aired on October 3rd, 2016, which is the same day as Gwen Stefani's birthday. (October 3rd, 1969).
External links
Ad blocker interference detected!
Wikia is a free-to-use site that makes money from advertising. We have a modified experience for viewers using ad blockers

Wikia is not accessible if you've made further modifications. Remove the custom ad blocker rule(s) and the page will load as expected.