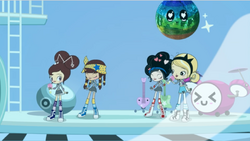 Squirrels on Scooters is a song that appears in Delectabubbles.
Background
The girls sing this song in order to propel the bubble they're trapped in to move faster towards Madame Shh's tower and hopefully pop it.
Lyrics
G: Squirrels on scooters trying to stop us.
Music: Squirrels on scooters look it, they come.
Both: Yeah, yeah, yeah! Squirrels on scooters
---
Love: Everyone needs to sing!
---
Everyone: Yeah, yeah, yeah. Squirrels on scooters. Bet they won't catch us, squirrels on scooters.
Ad blocker interference detected!
Wikia is a free-to-use site that makes money from advertising. We have a modified experience for viewers using ad blockers

Wikia is not accessible if you've made further modifications. Remove the custom ad blocker rule(s) and the page will load as expected.